This Month's Featured Holy Cards
Matrimony Card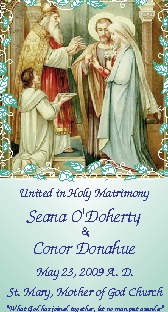 Using the espousal of Mary and Joseph and colors of aqua and white , understated but beautiful!
Holy Souls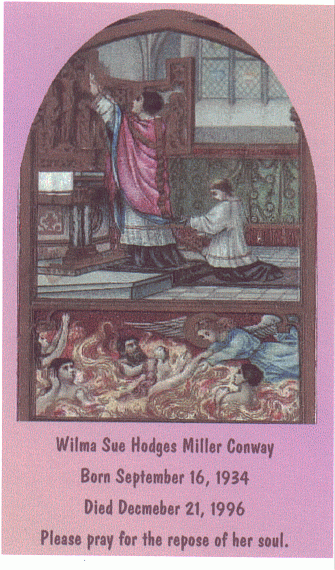 Pink fading into peach background, cropped cathedral shape picture, font is Imperial
Confirmation Card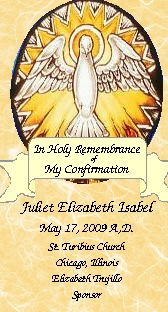 Done with a simple background and lettering allowing the symbol to stand out
Newsletter Insert
St. Therese Missionary Society
Picture is St. Therse sending a shower of roses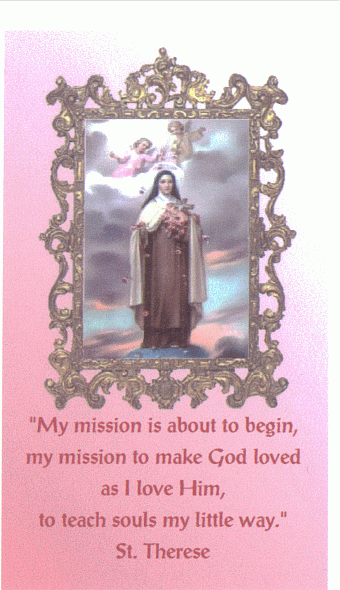 Background a pink fading to white diagonally. Gold frame around picture. Font is Antique.
Matrimony Card using an old holy card of Mary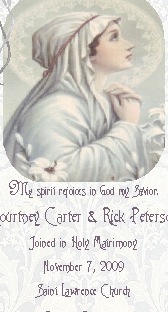 This has a brocade background and deep purple lettering making the accents seem a gray/lilac.
Graduation Holy Card Front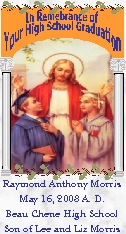 The graduating class colors were orange and navy. I used these as the basis for the card colors.
Girl's First Communion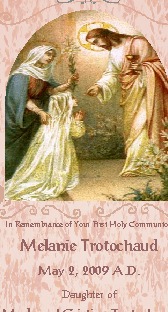 A pink fabric background, the font is Antique and the picture is a lovely traditional picture.
Ora Pro Nobis Holy Cards!
Beautiful reminders to pray for one another!
Ora Pro Nobis Holy Cards is not responsible for the advertising banners displayed through this free website domain of tripod.com